TWR 關島太陽能發電安裝工程進入最後階段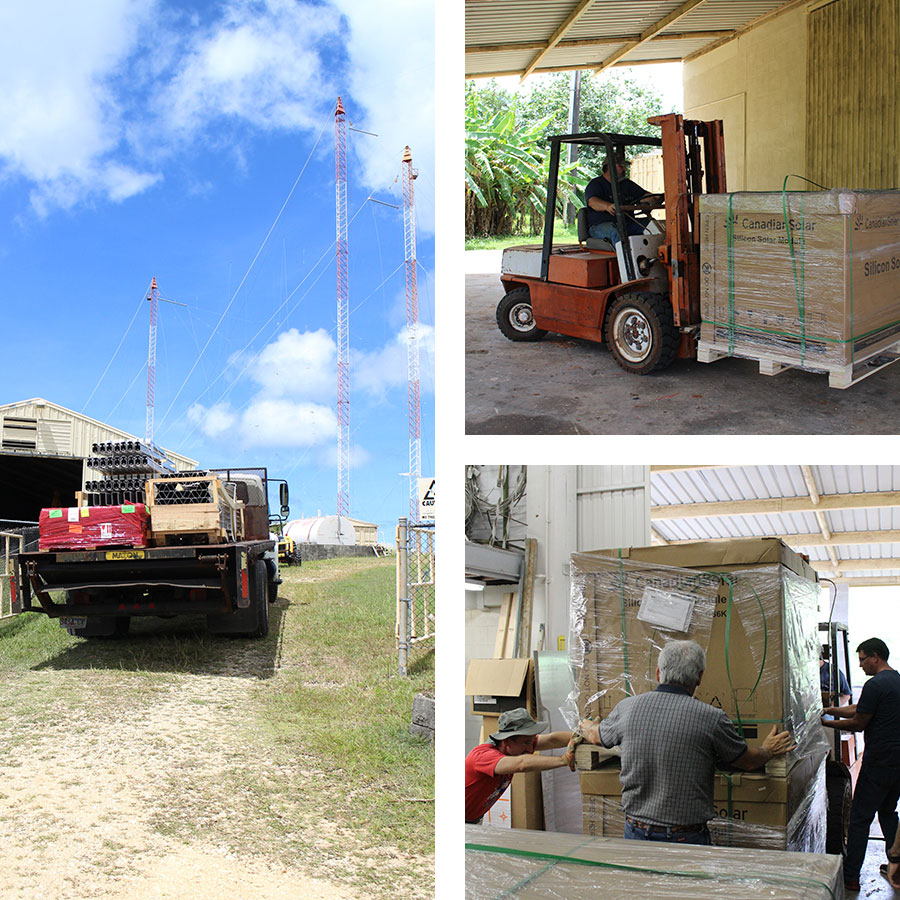 Unpacking additional savings Guam gets more solar panels
The KTWR team on Guam recently received a large shipment – a solar array.
Now the digging, setting and pouring begins. The team will have to dig post holes, set up the posts and pour concrete. The hardest part, according to Mike Sabin, KTWR chief engineer.
This is the third and final phase of the project, which started in 2014 when the first solar array was installed.
The team started the project because the power bill continues to increase.
Running a radio station requires a lot of electricity. Broadcasting at up to 500 kilowatts over thousands of kilometers during peak hours – from Guam to China and other parts of Asia – tends to use quite a bit more power than the average home. As a result, the largest line item in KTWR's budget goes to paying the power bill.
After seeing a local church use solar panels, the team thought it would be a good solution for the shortwave transmitting site.
With the current two phases in place since 2015, KTWR has been saving 6 percent on its electricity bill. These solar arrays generate 44 kilowatts of electricity.
"Our total capacity with phase three will be 82 kilowatts," Sabin said.
This additional capacity will bump the savings to 9 percent.
"It continues to help us use ministry funds to reach more people because we don't have to spend it on the power bills," Sabin said.
The transmitting site broadcasts the gospel to countries throughout Asia, including China, North Korea and Indonesia. The power of shortwave is its ability to travel long distances and over mountain ranges into people's homes.
Guam can get a lot of high winds and typhoons so the team is thankful that the typhoons haven't done any damage to solar panels.
Pray for the team as they install the solar array and pray that they won't be damaged by the weather.
香港環球電台
二零一七年四月二十日

原文連結請 按此 。